After last year, when the Como Park Champs had to be moved to Green Acres for lack of snow and I did not participate because of the mother of all colds, we had 5 cm of fresh snow on a decent base. In addition, Ben and Co shoveled to add more snow at some weak spots, notably the open sore in the steep downhill and the City of St. Paul did a super job grooming. Consequently the course was in great shape.
Como Park bare spot in steep downhill, BEFORE trail

work and Championships
This was also the first time I used my new Sisu skin suit. The only time I had worn it was when the package arrived in the mail last summer, when temps hovered around 35ºC. Now, I was a little concerned on how to dress for temps around -10ºC. I decided on a tech short-sleeved tee (the old green Sisu summer tee), my trusty Nike Pro Combat Hyperwarm Fitted Dri-Fit Max base layer and the Sisu race top. I did wear a warm-up jacket and a down parka on top, shedding the latter when I started my warm-up after bib pick-up and the former a couple minutes before race start. There were quite a few people decked out in the new Sisu suit, good to show your colors!
As usually I hung back at the start, fully knowing that I wasn't here to win any prizes. But I had a good start, passed some people and fell in with a group who looked like they were around my strength. The snow was maybe a little slower than two years ago, when the course had been quite icy. But it was a pleasure to skate getting a good edge in the firmly rolled fresh layer. My choice of layers turned out to be right on, not too cold and not too hot.
The top women, most of them college age from what I could glean, started to pass during the first uphill slope along Lexington, they were moving at a great pace. Margie passed me someplace in the back bowl, shouting out some encouragement. I was waiting for Heather, Kitty and Sarah to be next, but they never materialized.
There were a few wipe-outs, fortunately nothing serious and never hindering me. During lap two, I kept with an oldster in a
City of Lakes Loppet 10th anniversary suit
. Several times I thought I'd be able to pass him but it never quite worked out. When we got to the steep downhill, there was somewhat of a crowd at the needle's eye between the trees and Odd, the guy in the suit decided to attack to pass. He wiped out, I was able to avoid the confusion and passed left, zipping through the narrows for the steep hill. But for that I do not think I would have been able to pass him.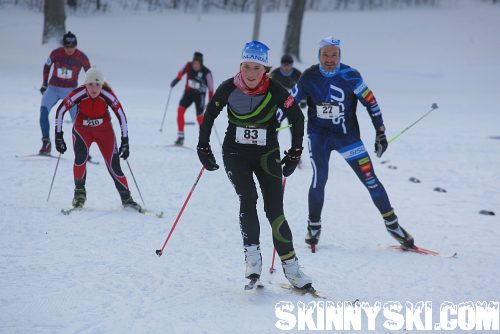 About 50 m to the finish.
I was able to hold off a young woman who was trying to pass me and made it in, wading through some pretty soft stuff before of the finish line. I somehow missed Heather, who must have been right behind me but was quickly joined by Sarah and Kitty.
Great event! Ended up finishing 60th of 84 in the men's, 6th of 12 in my age group. My pace was a bit faster than last time, too. Results can be found
here
.